Weekly Recap
The REIT sector significantly outperformed the S&P 500 index for the week, propelled by renewed strength in the multifamily REIT sector due in part to surprisingly strong rent inflation data. The REIT sector (NYSEARCA:VNQ) finished the week up 1.07% compared to a -1.66% decline for the broader equity index. (NYSEARCA:SPY)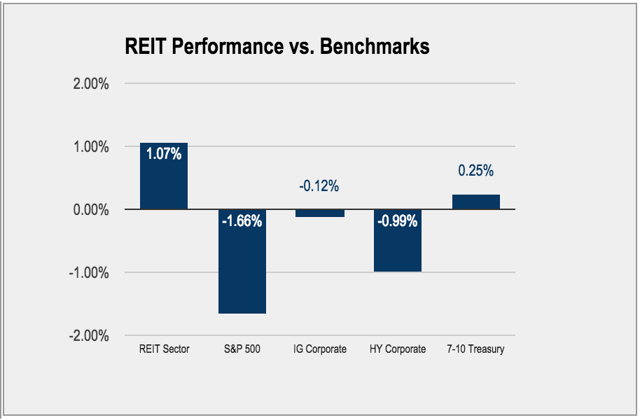 Click to enlarge
Interestingly, every real estate sector we track is higher- and outperforming the S&P 500- over the prior quarter. This is indicative of a market that sees a relative balance of supply and demand forces. In general, the owners of commercial property (REITs) and the developers of new supply (homebuilders and construction companies) tend to move in inverse directions when the market forecasts too much or too little new construction. The unusually high correlation over the past month indicates at relative balance of new supply conditions.
REITs are now up over 5% for the quarter, compared to a 2% increase in the S&P 500, and a 4% and 2% increase in Investment Grade and High Yield corporate bonds, respectively. Six-month and annual performance figures show similar trends in outperformance for equity REITs, bolstered by lower yields, strong rent inflation data, and moderate supply growth.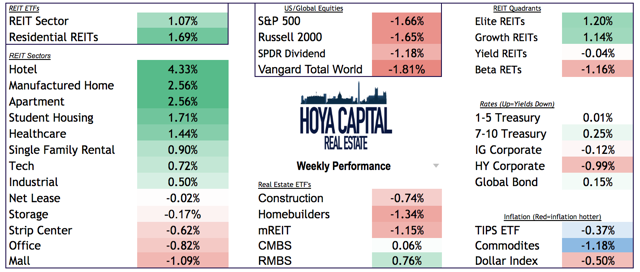 Click to enlarge
Elite REITs, those REITs included in the S&P 500 index, outperformed for the week, followed by Growth REITs, an index of high growth and low payout names. Yield REITs, a proprietary index of the most yield-sensitive REIT names, finished slightly lower following a previous week of strong outperformance. Beta REITs, an index of the most highly leveraged REITs, lagged amid heightened economic uncertainty and weak performance of several specific names in the mall sector.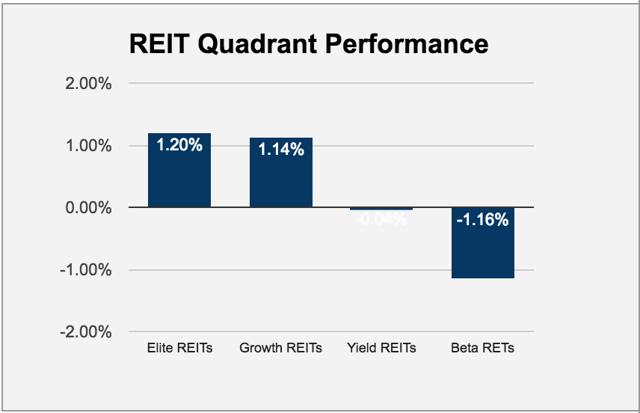 Click to enlarge
Mortgage REITs (NYSEARCA:REM) finished the week down slightly, but remains up around 6% over the past quarter.
Homebuilders (NYSEARCA:ITB) and the Construction sector (NYSEARCA:PKB) finished the week down slightly as well, while real estate debt, CMBS and RMBS saw no notable change.
Real Estate Economic Data: Moderating Supply
Our analysis of the supply/demand conditions of commercial real estate always begins with supply growth. Low supply growth has been the hallmark of this economic recovery and the accompanying REIT outperformance. In January, we published our most shared article, "The Rent Is Too Damn High!", (click to view) where we projected that, contrary to calls for increased supply growth and thus the end of the real estate cycle, lower supply growth was essentially a "new normal" condition for commercial real estate due to increased regulation and labor costs.
Since then, supply growth has largely moderated from its 2015 levels, and we project that 2015 was the peak for permitting activity in this cycle, as increased regulations related to Basel III, along with seemingly ever-increasing labor costs, will make construction loans harder to obtain for the marginal developer.
To that end, monthly housing starts data came out Friday morning largely in line with expectations. After a spike in late 2015, setting off fears of oversupply, permits and starts in multifamily properties have moderated, though construction remains slightly elevated above the five-year average.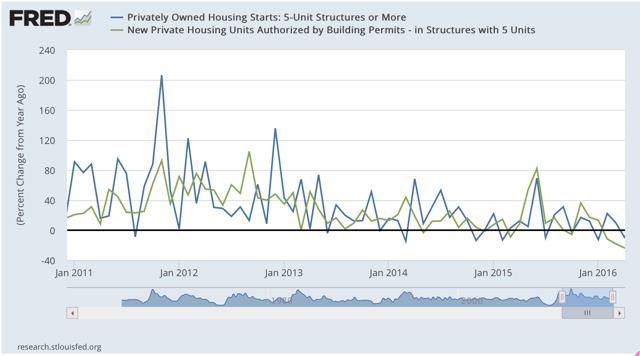 Click to enlarge
Inflation data are perhaps the most revealing data series when it comes to the supply/demand equation in commercial real estate. While CPI inflation released this week showed that inflation is nearly non-existent at 0.2% m/m, CPI for rent of shelter reached its highest level since the recession, and shows few signs of slowing.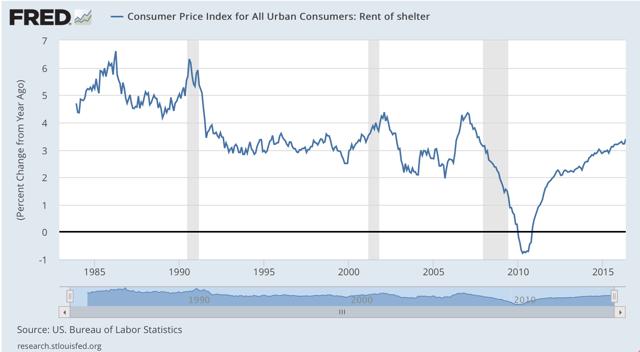 Click to enlarge
Outside of the multifamily sector, employment data confirms that supply growth is likely moderating, though still at slightly elevated levels. After a surge of new employees in late 2014, employment growth has decelerated, though the trend is still above the 1-2% GDP growth.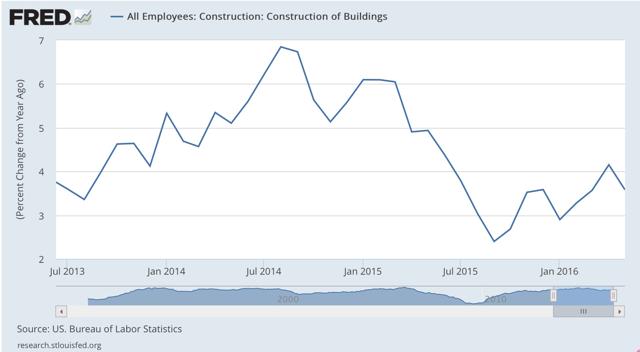 Click to enlarge
Retail sales showed signs of continued recovery, rising 0.5% in May on top of a strong 1.3% in April. Within the data, though, department stores were among the worst performers, which explains the weak performance of the mall sector over the week. Despite the uncertainty, mall REITs are up over 5% for the year.
While the Brexit vote is at the top of the headlines this week, we see this as mostly "noise" for equity REITs in the U.S. except for the few larger REITs with direct exposure to UK assets.
Looking Ahead
This week's economic data, particularly the rent inflation figures, seem to point towards continued moderating supply growth, which is good news for REIT investors. While rental growth may be slowing slightly, we don't see the broader trend reversing anytime in the near future, short of any drastic changes in zoning and financing regulations. If anything, with Basel III being phased in, construction financing will become even more difficult, as banks are forced to hold more equity than in years past.
This week saw several notable trend reversals within the specific sectors. Hotels finally reversed an abysmal trend of underperformance. Despite the strong week, the hotel index is still down over 30% over the past 52 weeks. Apartments experienced a similar reversal, finishing up over 2%, but are still down 4% over the previous month. Tech and Industrial REITs finally cooled off, both finishing unchanged on the week, but are still the top performers over the past quarter.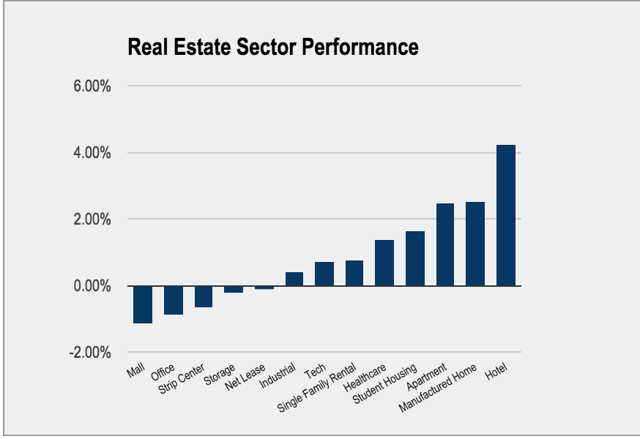 Click to enlarge
We are watching the tech and industrial sectors closely for signs that the tremendous run this year may be showing signs of slowing. These names have been screening as rich for several months, but the underlying trend of eCommerce and connectivity is still in the very early phases, in our opinion.
Apartment and Storage REITs, the darlings of REIT-land in years past, have been the laggards this year amid the concerns related to supply. We project, given the recent moderating supply data and continued strong demand among the "rent-by-choice" demographic, that these sectors will finish the second half on a strong note.
While much of the focus is on Brexit next week and the craziness that surrounds it, REIT investors should feel confident and relieved that much of the global uncertainty is merely noise for the real estate allocation of their portfolio.
Disclosure: I am/we are long EQR, DLR, AMT, PLD, CPT, PPS, EQY, STOR, EXR, SHO, EDR, OHI.
I wrote this article myself, and it expresses my own opinions. I am not receiving compensation for it (other than from Seeking Alpha). I have no business relationship with any company whose stock is mentioned in this article.